Your body needs plants. It's not just maybe needs or sometimes needs them; your body needs a variety of fruits and vegetables daily.  There are vital phytonutrients found in plants that you cannot get in any other food.   Your liver, for example, relies on key components from plants in order to appropriately detox the body and digest food properly.   Some of the biggest challenges we hear from people when it comes to trying to increase plant based nutrition is it's boring, not flavorful, and takes too much time to prepare.
In this blog, we want to give you an idea of a healthy, flavorful lunch option that is packed with nutrients.  Plus it's simple to prepare.  Anyone can do it!  You will want to set aside about 30-45 minutes on Sunday to prepare the food.  And when it's all said and done you will have your lunch packed for the week!
Mediterranean Quinoa Salad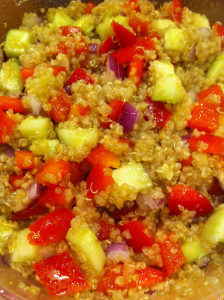 Ingredients:
1 cup uncooked quinoa
2 cups of water
½ red onion, diced
1 red bell pepper, diced
1 cucumber, peeled and diced
2 tbsp olive oil
juice from 1 lime
salt and pepper, to taste
First, you will want to cook the quinoa.  Boil 2 cups of water; add 1 cup of quinoa.  Turn heat to low and cover for 15 minutes.  Then, remove from heat and let the quinoa cool.
While you are cooking the quinoa, you will want chop the red onion, bell pepper and cucumber.  Once the quinoa has cooled add all the ingredients together and stir until well mixed.  The quinoa salad is a simple as that.  Depending on what flavors you enjoy, you could add herbs or balsamic vinegar to the salad as well.
Next, you will want to prepare what you would like to pair with your quinoa salad.  Hummus is delicious with this salad.  You can buy store bought hummus of your choice.  We like to add the hummus along with carrots, broccoli, and cucumbers slices.  Tomatoes would be delicious too.  The key is pairing it with veggies that you enjoy.  If you go ahead and chop the veggies all at once on Sunday you can prepare containers or baggies with the veggies for each day.  Life tends to get hectic once the week gets started, so by preparing the healthy foods in advance you will likely eat healthier throughout the week.
Have a healthy week and enjoy some plant based nutrition!  Your body needs it.