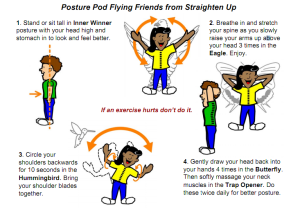 Here are 5 easy steps to help enhance your posture:
Inner Winner – stand tall in your Inner Winner posture with your head high and your stomach in
The Eagle – breathe in and stretch your spine as you slowly raise your arms up above your head 3 times
The Hummingbird – circle your shoulders backwards for 10 seconds and focus on bringing your shoulder blades together
The Butterfly – gently draw your head back into your hands 4 times while adding slight resistance with your hands; be sure to keep your elbows out away from your face
The Trap Opener – softly massage your neck and shoulder muscles
"Straighten Up America" is intended to be incorporated in a healthy lifestyle. Consistent healthy choices and healthful habits form the foundation of a healthy life. Our hope is that you make these exercises a daily part of a vibrant empowering lifestyle for your whole family. For more information check out the Straighten Up America website at http://www.straightenupamerica.org/index.html.